Chassis Weights Lite
Now Faster and Easier Chassis Setups

It is no secret that weight has a big impact on how your car handles. What is a secret is there is a quick and simple way to deal with weight distribution and locating objects or ballast.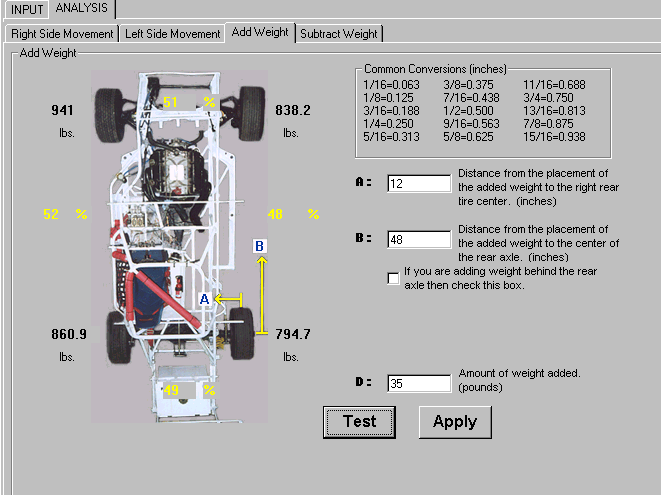 Virtual Scales


Chassis scales are critical in racecar set-ups, but not everybody has a set of scales or the time to re-scale the racecar. The new Chassis Weights Lite software acts like virtual scales.


Budget racers can use the C W Lite software to keep track of adding weight or removing weight and the software will show you what the scales would read due to the changes. This way you don't have to own a set of scales, you only need to get access to a set of scales once, or occasionally.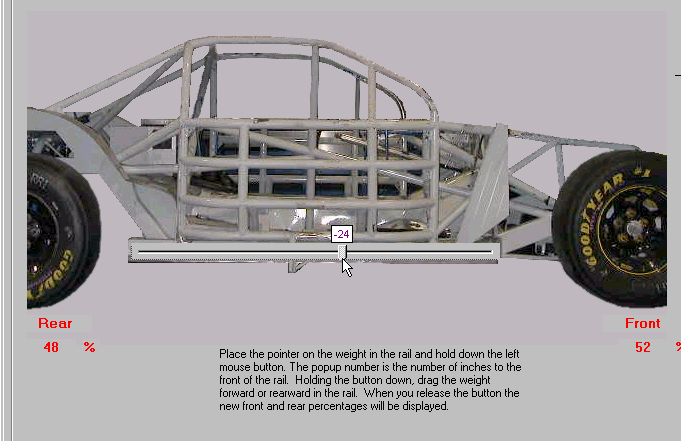 In a hurry? For you racers in higher classes, use the C W Lite software to see what your weight distribution is when moving weight. Just grab the weight in the simulated frame rail in the software and slide it frontward or backward to instantly see the new percentages and the individual wheel weights. You can have the answer on your laptop before the competition can get their car on the scales.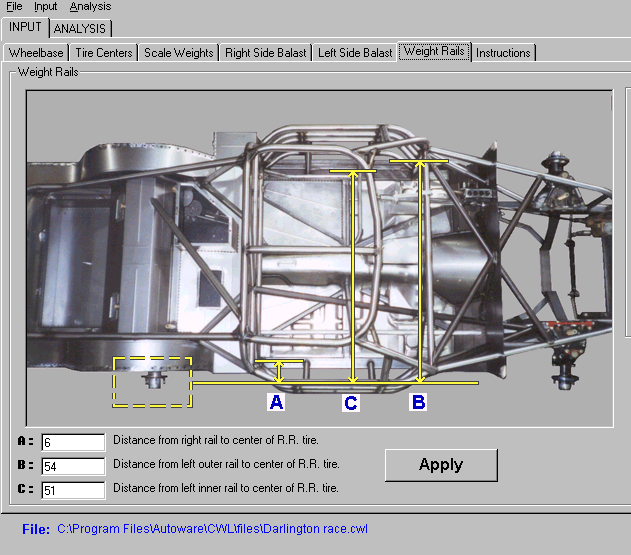 Easy Input


The photos in C W Lite make entering numbers a breeze. It is very clear what you need to enter and where to measure your racecar. No clumsy computer line drawings or reading microscopic text, just big easy to understand photos.


Faster Set-ups
Do you have minimum percentage rules? Or maybe you just want to experiment! It is much faster to move or add weight in the C W Lite software than actually doing it on the racecar. Now it's just a matter of click, click and its done vs. push the weight forward, roll the car (or shake it) wait for the scales to settle down and then read the numbers.


The C W Lite software was developed and used by an Engineer for a Winston Cup team that needed fast and accurate answers. Now, at a price that anyone can afford, you can get the same advantages as high tech professional racers. Order today!
MINIMUM COMPUTER REQUIREMENTS
Windows 95, 98, ME, XP, color monitor, CD ROM drive and hard disk
Copyright © 2003 AutoWare,Inc.