Auto-Ware History.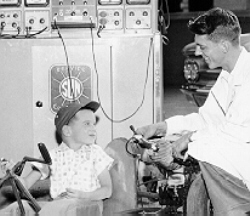 Auto-Ware was incorporated in 1989 and the Auto-ware logo was registered as a trade mark in 1990. The company was created (and is still managed today) by John Block (click here for Bio).
John is a graduate of the University of New Mexico and a registered E.I. in New Mexico. Long before this Engineer ever got the idea to start a software company, he was infected with the well known but little understood racing disease. John's first taste of speed came early. At the ripe old age of 4 he began racing go-carts (he's the one wearing the hat in the picture).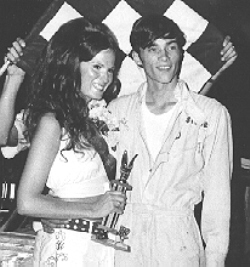 Now, as you all know, there is no known cure for the dreaded racing disease which has many strange symptoms. One of the symptoms of this disease is that it causes confusion about age in adolescence. So, he fibbed about his age and started racing dirt track modifieds in 1970. John, thoroughly infected at this point, then built and drove his own cars for the next 4 years.
Unfortunately, college demands more money and time than a race car driver has. So John worked his way through school as a machinist and started applying his education and working on and building race cars for other people. Over the years, John has wrenched on modifies, stock cars, sprint cars, sports cars and just about everything else with wheels.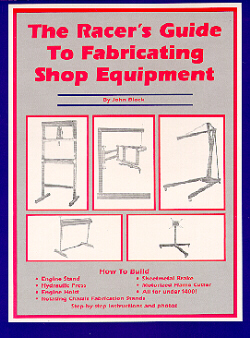 As his racing knowledge grew, he expanded to writing. John's first book "The Racer's Dictionary" was published in 1980 by Steve Smith Autosports. Later, his second book "The Racer's Guide to Fabricating Shop Equipment" was also published by Steve Smith Autosports. In 1995 John started the "Cyber Racing" column in Circle Track magazine.
Although he's a good race driver and a very good fabricator, race car engineering has become John's real strength. In 1985, John was the Team Engineer for the Galles Indy Car Team. That year they got their car on the Pole at Indy (John is the middle guy in the picture below).
Next, John teamed up with Nigel Stroud in England where they served as consultants to the Mazda factory race team for two seasons. They also worked on the Porsche 956B, Mercedes Benz 190, and many other race cars in Europe.
During that time, John had developed computer programs to help speed up the engineering process. It was those original computer programs that served as the spring board to the Autoware line of software today (and now, you know the rest of the story)!
(more below)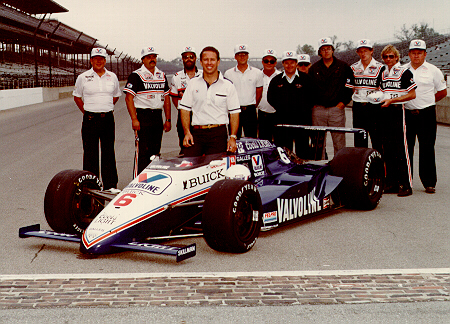 The strength of any company is built on the strength of the individuals in that company. We are very proud to have Zachary Taylor as our Lead Programmer (pictured below).
Zach is currently attending the University of New Mexico as a Computer Science major, with the hopes of one day working on the computer systems of the Formula 1 cars.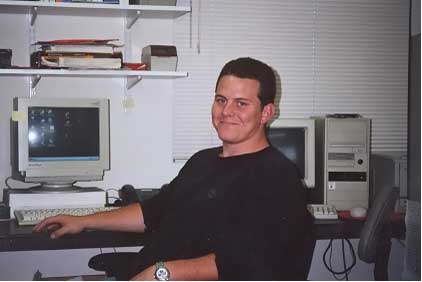 Zach started at Autoware in 2000 and is hard at work on the next generation of Autoware programs.
So, stay tuned and see what we create for you.
Auto-Ware's Racing and Performance Tech Site
• Software for Auto Racing and High Performance Cars
• Product Prototyping - Personal and Vehicle Development
• All types of Tech Info on racecar engines, chassis and suspension setup for road
racing, oval track and drag racing, and general automotive technology.