Sales
800-647-2392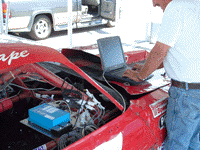 Auto-Ware's Racing and Performance Tech Site
• Software - Race Car, Sports Cars and Muscle Cars - engine, chassis and suspension
• Data Acquisition Training - Live Seminars on the Internet and personal sessions
• Driver Coaching & Engineering Services - Personal and Vehicle Development
• All types of Tech Info on racecar engines, chassis and suspension setup for road
racing, oval track and drag racing, and general automotive technology.
Off Site Data Acqusition Services
Get top grade professional level services at a fraction of the cost with Auto-ware's new Off Site Data Services.
Your data can be professionally evaluated by an Engineer in less than one hour after you finish a run, qualifying, or a race.
The Off Site Data Services include improvements to your current analysis by providing "math channel equations" and views (CDS), worksheets (Pi), profiles (AiM) for your current analysis software. You will then be able to see the data just as it will be reviewed and evaluated.
Simply email your current run data to Auto-ware and it will be quickly evaluated just like having a Racing Engineer on your team and at the track. Moments later you will get a phone call with the findings and a review you can follow on your computer because you have the same screens.
Depending on your sensors and system everything from shocks to chassis, gearing to handling, and even driver development can be addressed with this new service. Again, just like having a full time Engineer on the team, but without travel expenses, pit passes, per diem or payroll.
Space is limited. Call now for details and reserve your spot!
(800) 647-2392 ext 201
Advanced Data Classes.
You asked for follow up classes to our original data webinars, so here it is ADVANCED DATA ACQ! These classes squeeze more info from basic data than you thought possible. You will see every sensor on your car blossom on your computer screen to a wealth of info, but very quick and easy to understand. Click HERE to sign up, but hurry classes start June 10 th.
See your engine's HP curve, gear thrust, or gear position and more power/gearing parameters without special sensors.
Got brake sensors? Sure you can see brake bias, but you will also see pedal/master assembly issues, caliper flex, your agressiveness with the pedal and other brake performance parameters.
See the amazing hidden potential of a simple throttle sensor.
If you don't have shock sensors, you will want them after this class. The info covered in the original Data Acq webinars is expanded to include approx load on all 4 tires (including aero) and more shock and spring tuning with special graphics.
Advanced webinar price $350. Attendees of the original Data Acq webinar can attend this series for only $175.
For more info email John@auto-ware.com
Announcing April Dates!
The Original Data Acq Classes
The highly acclaimed Data Acquisition classes are starting again. The next session start week of June 10th . This technology is common in the professional ranks and now you can be a data pro, too! Click HERE ffor more info and special price. Act Fast! Previous session have sold out and this month is already filling up..
What people from the previous session said
"This is absolutely amazing, I had no idea my system would do this. I don't know why I waited so long to do this (webinar)."
"What I've seen so far out paces all the sales and tech people I've ever talked to, I can't wait for the last two classes."
"I'm learning a lot with your seminar. I wish I had found it sooner."
"I am loving the webinar and I wished I had taken it sooner. It has been opening all kinds of windows."
"I've taken, as have several other FPR members , John's class. It is a great course. Good material, well expalined, lots of examples, no sales pitch/commercial."
"I can't believe how much I was missing regarding the capability of my DA system."
"I strongly recommend John's classes, they have been a huge help on getting my data system up and running. He gives away a ton of information that would have taken years to learn. Definitely worth the price of admission!"
"If you have one of these systems you may have been like me and just using a small percentage of the available capacity of the analysis software. I am amazed at what can be done with the advanced math formulas and custom profile pages. "
"I am positive that it will be the most cost effective lap time improvement that you have ever purchased. I would encourage any one with one of these systems to join the class. "
Sign up HERE
New Suspension Software
Chassis software that takes suspension to a new level!
After years in development the new Front Suspension Geometry Pro is now available.
You wanted to know what happens to your roll center when you change ride height or tilt, and now in 6 clicks you have your answer.
This chassis software has raised the bar for suspension software everywhere. You said you wanted an EZ button, well we went one better and developed an OPTIMIZE button.
You can even run the software like a VCR and watch your chassis and suspension dive and roll in the corners. Plus, you can run two set-ups at once to find improvements.
Don't let the get competition the jump order today!

Tracking your Pony? Upgrade your Mustang front suspension by adding caster camber plates or a strut tower brace.
email John@auto-ware.com
7915 Cliff RD NW
Albuquerque NM 87120
Fax 505-890-5285
Tech help 505-890-8708 ext 202
---
Products &
Services
---
Customer Service
---
Performance Tech
Data Acq Classes
Make huge improvement
Wow, this one trick in the data is worth the price alone! IM, GA
I was somewhat familiar with the Race Studio interface, but I had no idea...You have opened our eyes... Thank you. RS, CA
I realize now, that for as long as we have been doing DA on our racecar (at least 5 years now with AiM) that we have not been utilizing the system in any capacity. CP, Canada
I probably will not suggest your webinars to anyone right now because I want to keep an edge over my competition. (Protected), PA
At ThunderHill I would say that there is about 1 second contribution from what I learned from the Webinars... This past weekend at Infineon I improved my personal best by over 2 seconds, huge! (Protected), CA
I thought the webinar was great. I definitely picked up new ideas. PT, IL
I want to thank you for the very informative class... It definitely made me aware of the potential of the system. Up till now, we've used the system mostly as a engine health monitor... and as a very expensive lap timer. AB, NY
I very much enjoyed the seminars and learned quite a bit of new tips on data acquisition and data analysis techniques. SN, Canada
Don't miss the next session of classes. Clickherefor more info.
Introducing
Driver Coaching!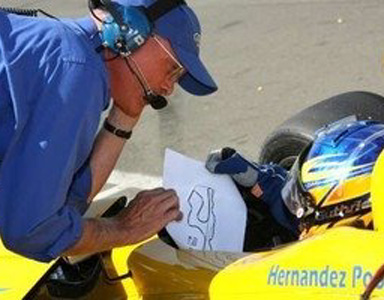 NFL quarterbacks have coaches, MLB pitchers have coaches and anyone serious about their racing should have a professional coach as well.
"You are an individual, you need individual development based on your strengths and weaknesses. That is why a different approach to driver coaching is needed" says Autoware's John Block.
Realize your potential to win with your personal driver coach who guides you through more than just race-craft. Coaching includes everything from physical training and psychology to on track data feedback plus elements of fighter pilot training and industrial process control.
It's, also, important to make sure the coaching environment addresses numerous human interaction effects. "That is why each driver gets a customized program," says Block "it is not a one size fits all experience."
This is more than a cookbook recipe on driving, it's thinking so far out of the box that you could never have imagined it, but once you experienced it, you will never look at race driving the same way again.
For more info please email
John@auto-ware.com
---
Auto-Ware